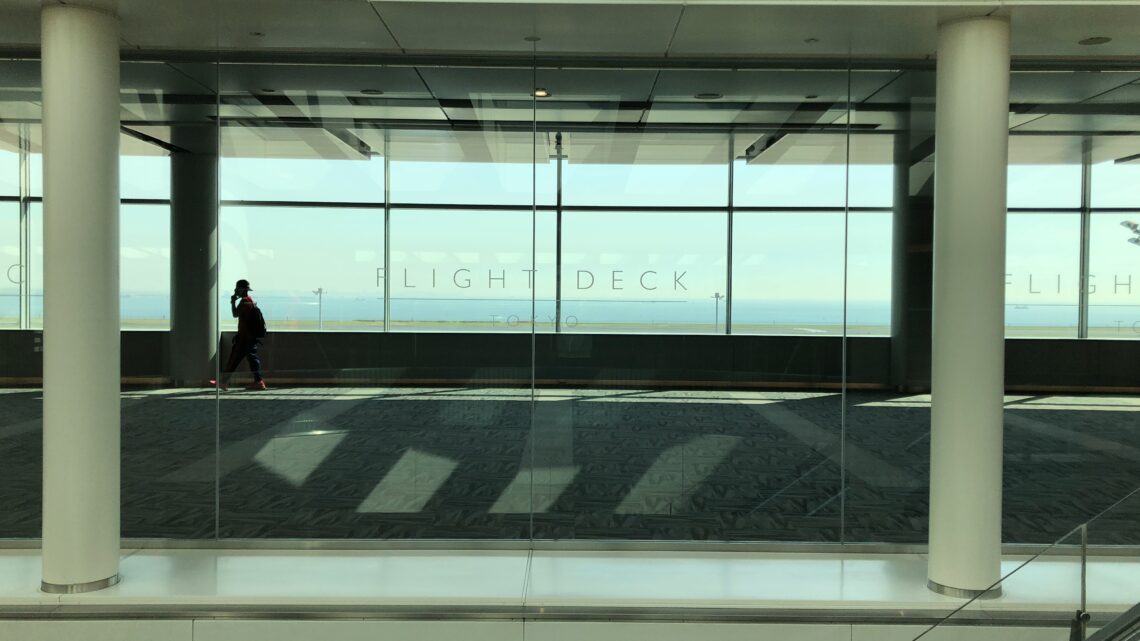 Inner Musings from Tokyo : May 2021
Well, well, well…Half the year of 2021 is going to be behind us in few more weeks – Could one imagine how fast the time flies…It feels as if we were in January a few days back, but I suppose the calendar doesn't lie – it is indeed mid of June already.
It's that time of the month again – where I reflect on the month that has just passed and focus my thoughts on the coming weeks.
The best thing about, MEMORIES… is making them. SOMETIMES you will never know the true value of A MOMENT until it becomes a MEMORY. Such a relevant thing to comprehend – I am, or should I say I was a frequent flier – From one country to another or traveling within a country so frequently as in every week – Perks of being in sales…
Alas, all this traveling looks to be a far-fetched activity now, one which we all took for granted and look now it's about one year and six months that we have not flown even with-in the country – International travel still seems like an absurd mirage…おかげ新型コロナウイルス (Thanks to shingata koronauirusu, novel coronavirus)
It's a well-known fact of human existence that life can change in an instant – Last year the pandemic bomb got exploded and I moved to Japan, life changed for good…
Well, to cover some ground of not been flying for so long, which I have not been used to…, we finally thought to fly to some destination in Japan, Maybe in May, whichever it May be during upcoming Golden Week Holidays.
Let me share some Gyan on Golden Week Holidays, which I came to know in such detail, only since I started staying in Japan – These are series of four holidays closely spaced together and observed at the end of April and beginning of May in Japan – The four holidays are Showa Day (April 29), Constitution Day (May 3), Greenery Day (May 4), and Children's Day (May 5).
And finally, May started with a start of a trip to OKINAWA…
We deliberately chose such a destination, which can't be connected by Shinkansen – The all-time favorite and popular "The Bullet Train".
And now in the first flight since the Pandemic, from TOKYO to NAHA by ANA; always an Inspiration of JAPAN.
ANA really makes you comfortable as they say and commit, with their ANA Care promise – I think now enough of promoting ANA, a 5-star Airline, Come-on stop now…
The Haneda Airport looked half-empty half-full – The check-in and security check was as if the staff was waiting for someone to come over…Few Restaurants which should have been normally opened as in the pre-pandemic era were seen to be closed or changed timing notification was hung to be read…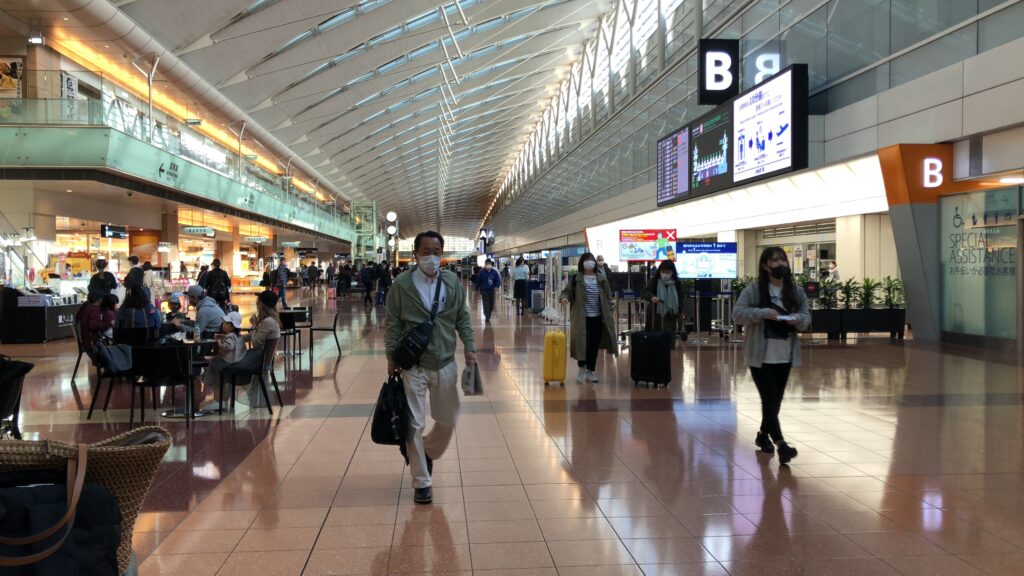 Our boarding was in Zone C and the time we entered the flight, looked as if everyone at the airport was heading to our destination Okinawa…The flight was about 75% capacity I guess, as I also couldn't find any empty Window or Aisle seat to change my seat…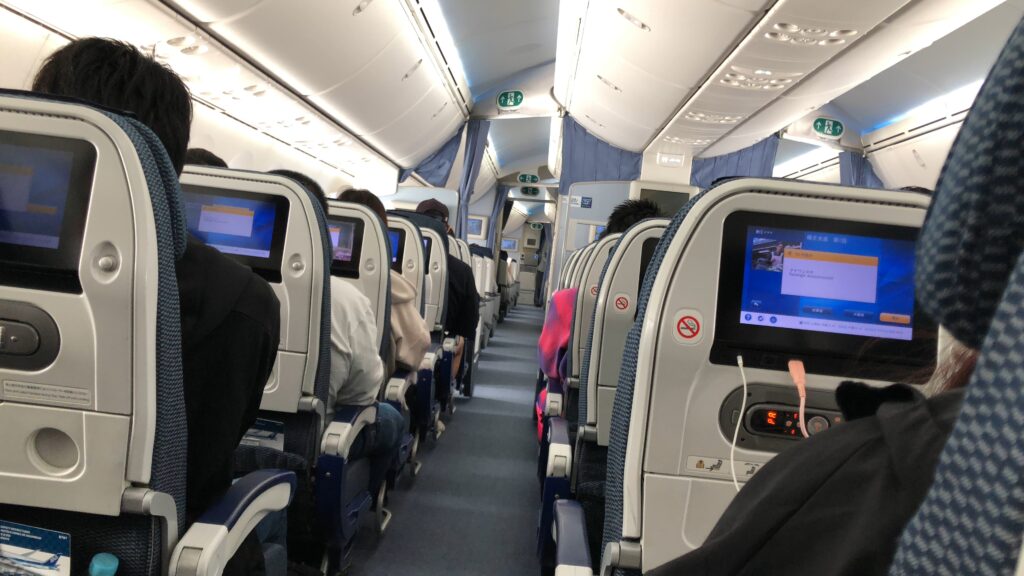 After such a long time, we were again on the flight and was looking forward to the food ANA serves (By the way ANA food options and quality is very good, had been missing it such), kept anticipating for food to come and served. Drinks came, and came again and came again, but Food here seemed a Mirage every time a cart was seen coming from the Pantry…Finally, we landed in Okinawa without food being served, in a full 5-star service airline…
Landing in Okinawa, we were greeted with lots of flowers, all looked fresh but can't say (Japan is famous where even the model food displayed in restaurants looks so real) and a lovely Mascot "Shisa" of Okinawa (Guardian Lions – actually resembles like a cross between a lion and a dog)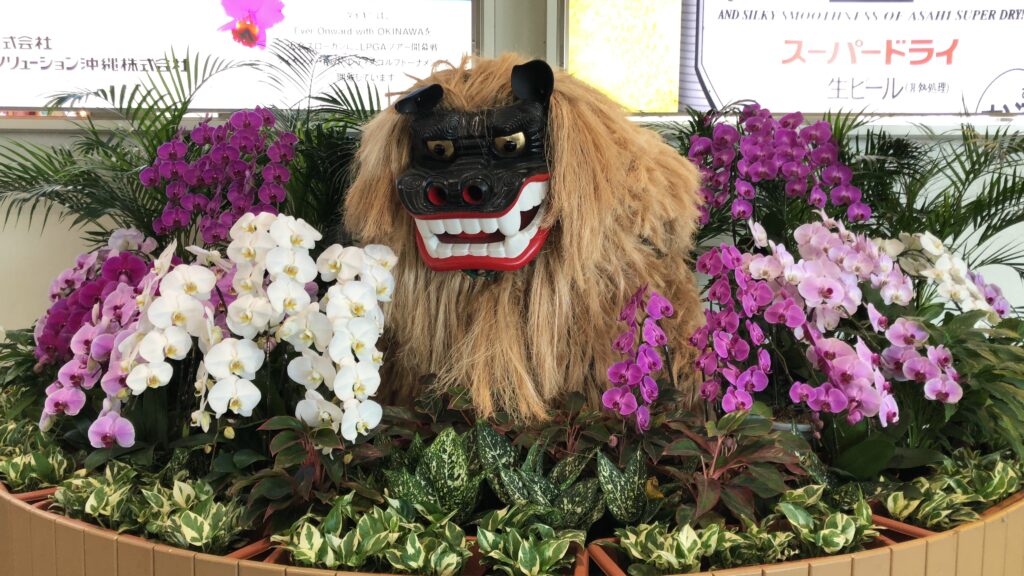 And then the beautiful Limousine bus dropped us at a resort (Obviously our booked resort),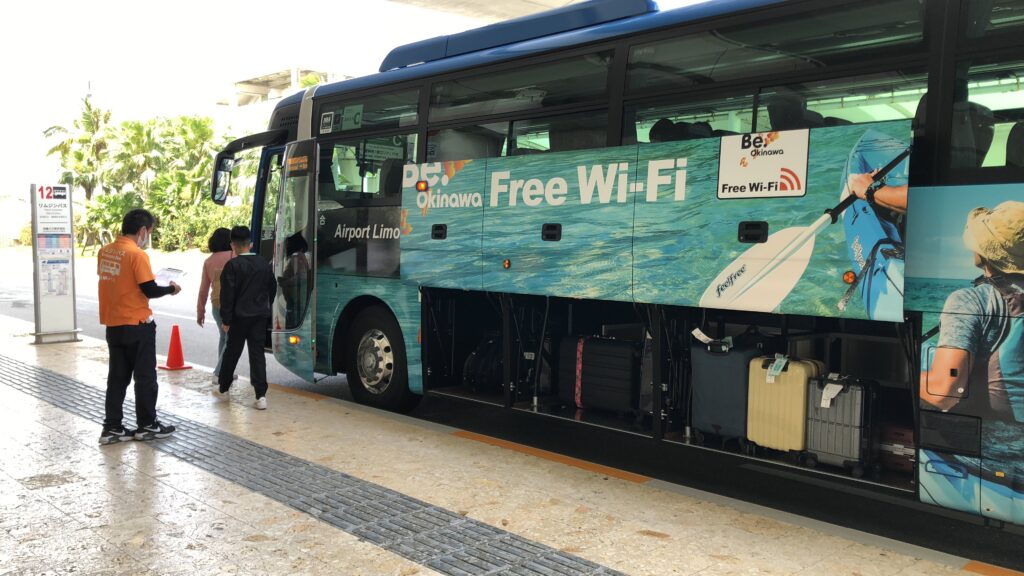 Where the Indian flag surprised us…Looked as if the flag was welcoming us to the resort.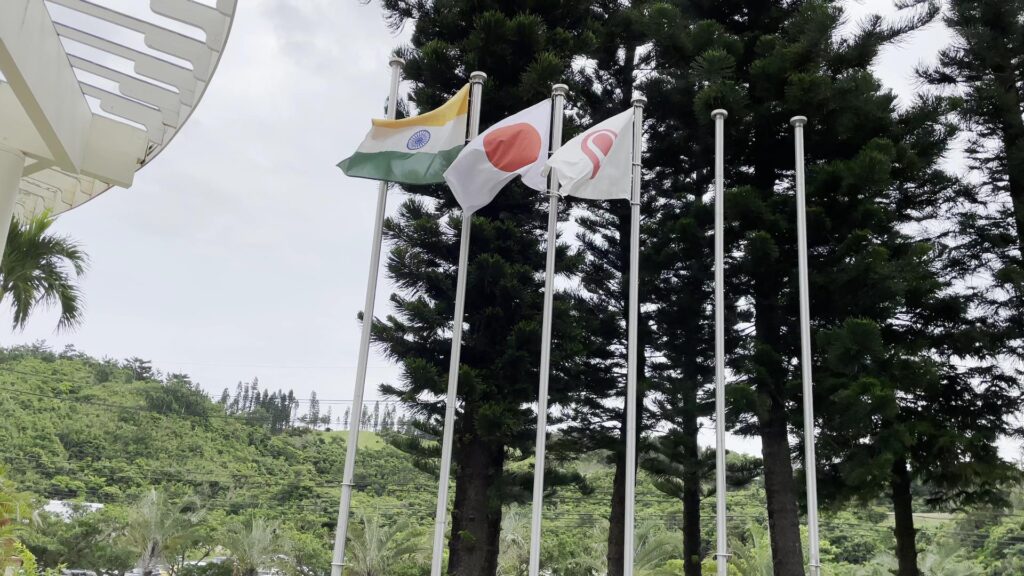 It was a lazy afternoon, checking out the resort & the beach…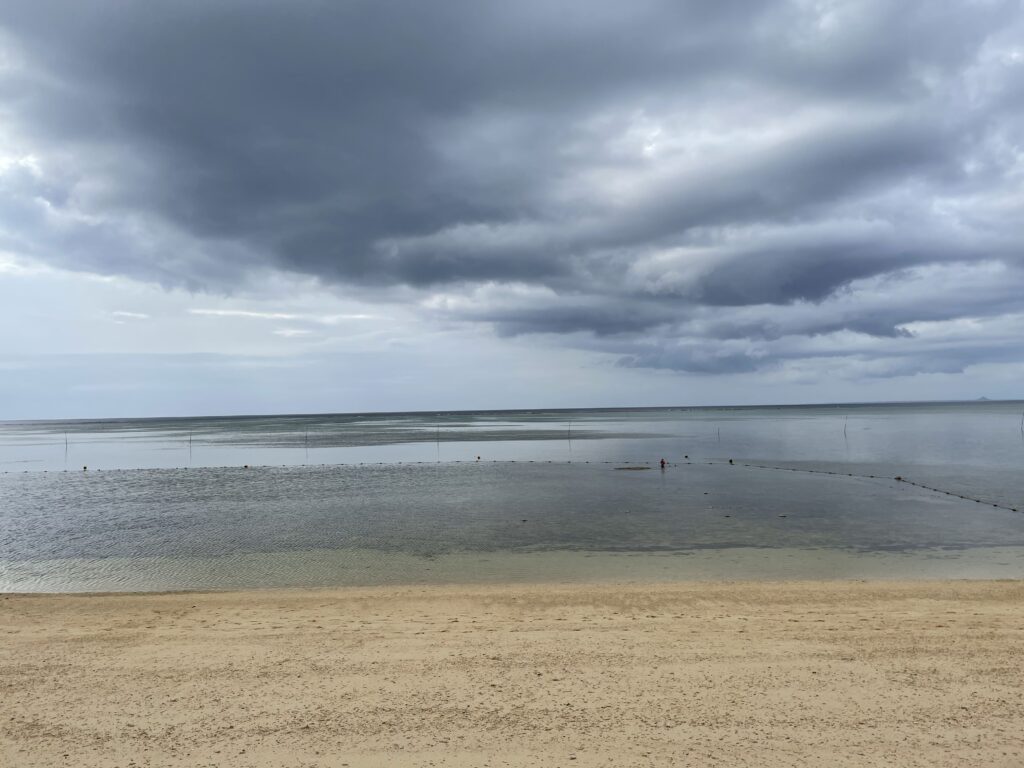 The night came with a lovely dinner at a local restaurant, which was one of the very few that was opened after 8 pm…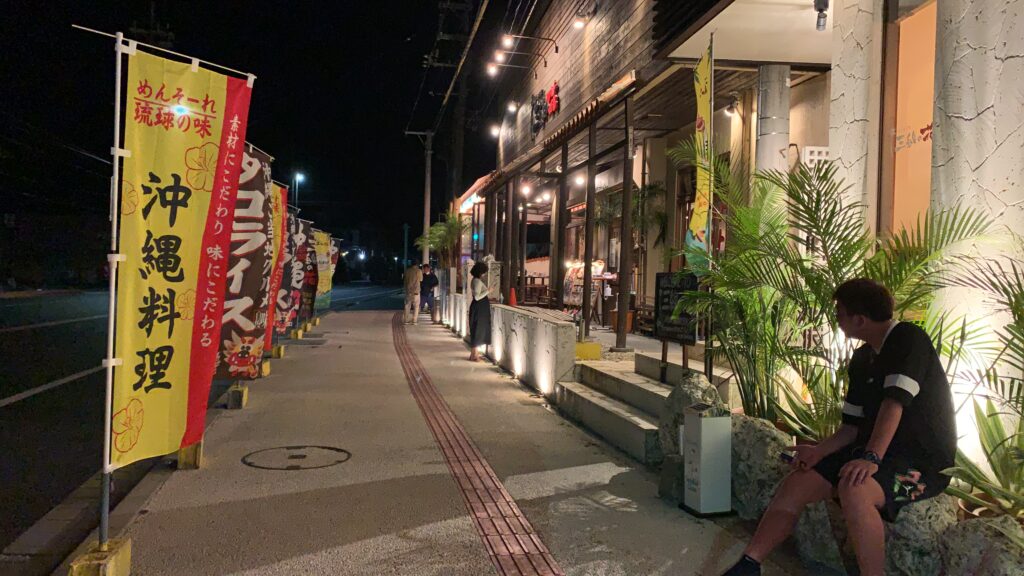 Dinner was sumptuous and then a Gesture from the restaurant! Nothing embarrassing but a lovely Omotenashi おもてなし – Dropping us back to our resort in a lovely decorated van…Actually, we were waiting outside for a taxi for some time – waiting was nice as the weather was really good and then after a while even enquired at reception too for them to arrange a taxi for us…Don't know what they thought and came up to us and offered us to drop, which we obviously couldn't refuse as we were getting an exclusive ride in such a lovely van, whole van to US…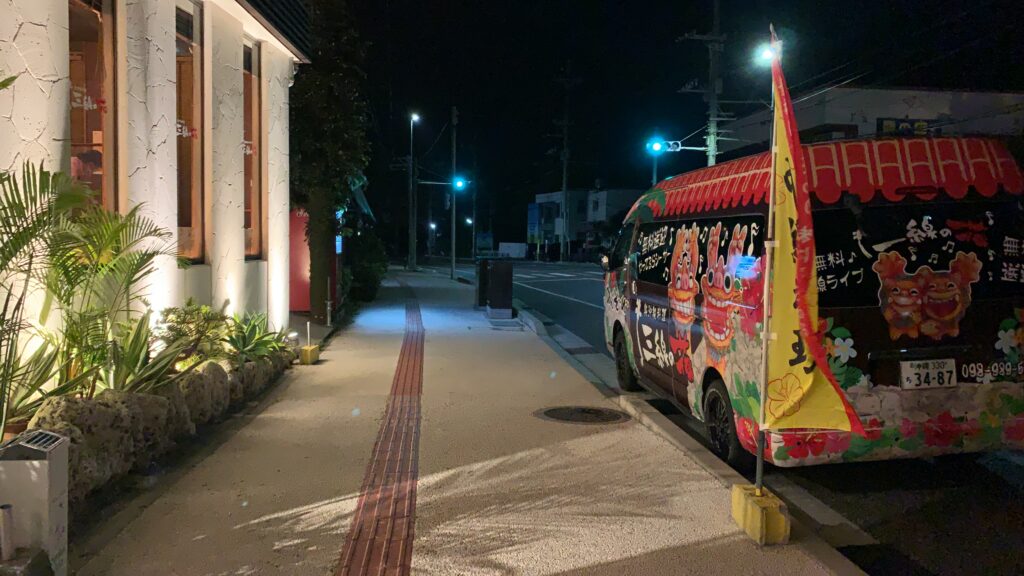 Our snorkeling was terribly interrupted due to heavy rains and bad weather the next day, had to return back literally after getting into the water, were approaching the Blue Caves when the warning came to return back…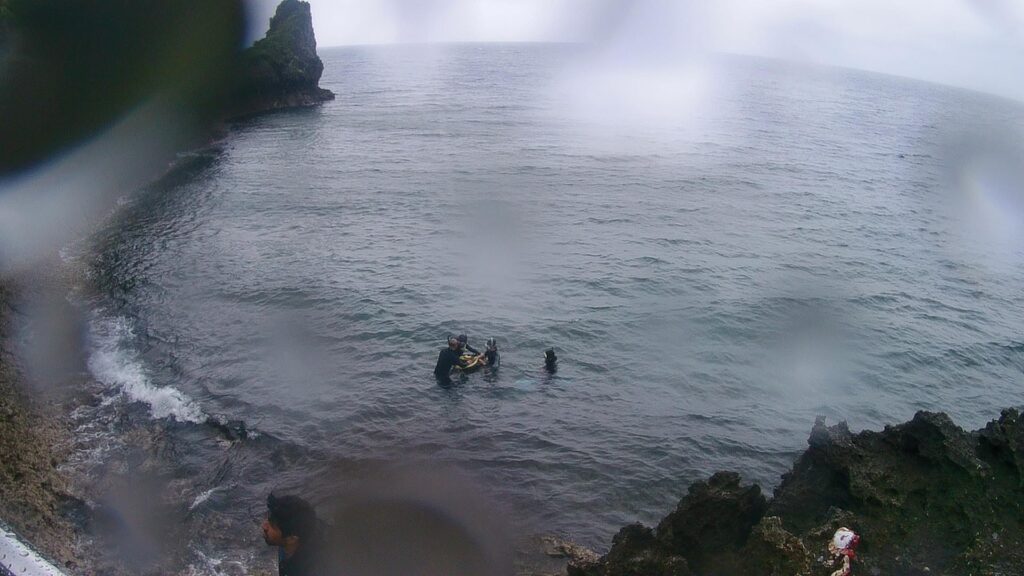 We did not want to waste the day, thought of going for cycling on the Okinawan roads and streets – Mrs. Roy Kapur getting jittery on the e-bike, as was trying it for the very first time…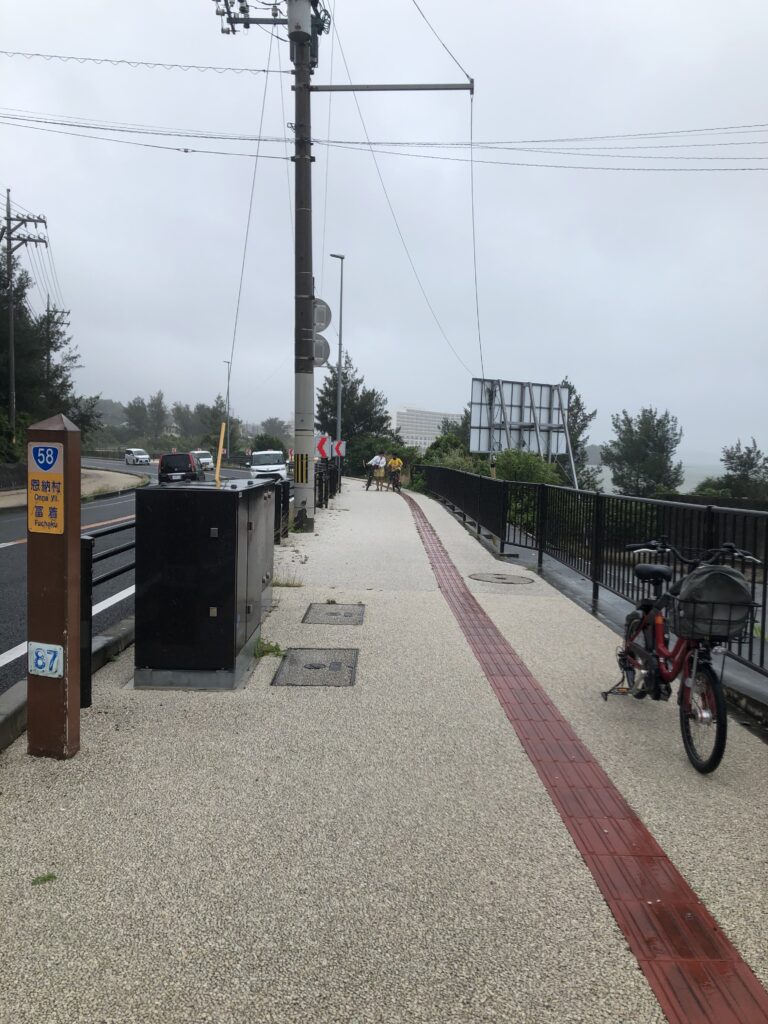 Everything around us was beautiful – In all things of nature there is something of the marvelous – LAND really is the Best ART created…
Looking back at my photos from Okinawa, it's clear that we did quite a lot, more than I had thought actually. These photos show the definite vivid beauty of Okinawa. Let me share some of them with some interesting stories for one to long for it…
Wow, I had my first inaugural drive on a Japanese license, which I secured it in February (you would know this from my previous blogs) – Had to come to Okinawa to JUST DO IT!
Pineapple Park – The Pineapple Paradise, got us everything of pineapple – pizzas, juices, and even wine (there is a small winery too!!) – It's just like a Jungle!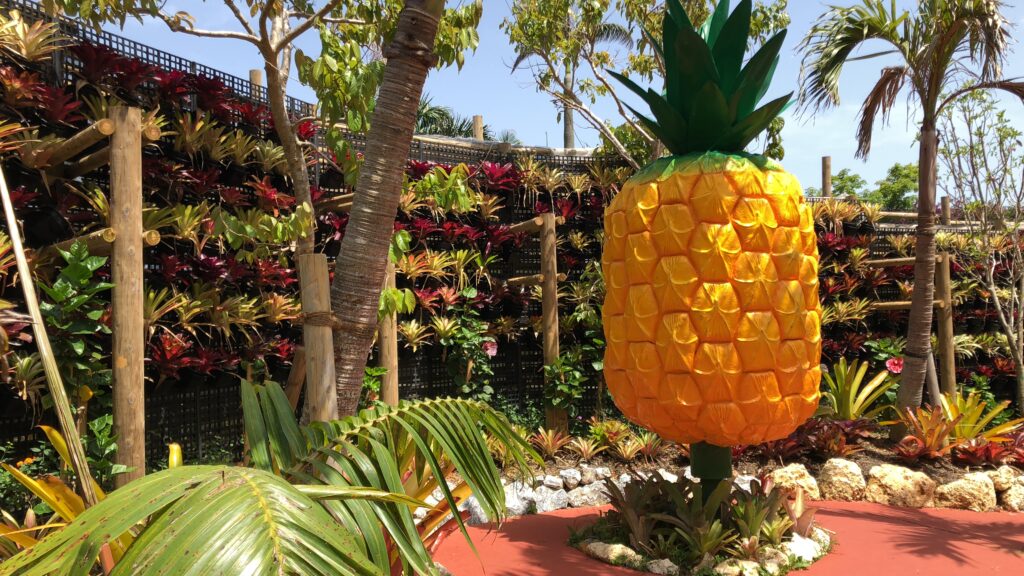 And there is a Dinosaur Adventure Tour too – If one is lucky, you can spot various dinosaurs like Tyrannosaurus Rex, Brachiosaurus, Stegosaurus, and more (To be frank I became more aware or knowledgeable about Dinosaurs after coming to this place – Hahaha?) …The Dinosaurs are reasonably realistic and vary in the level of animatronics from static models to automation with jointed necks, jaws, tails, and eyelids.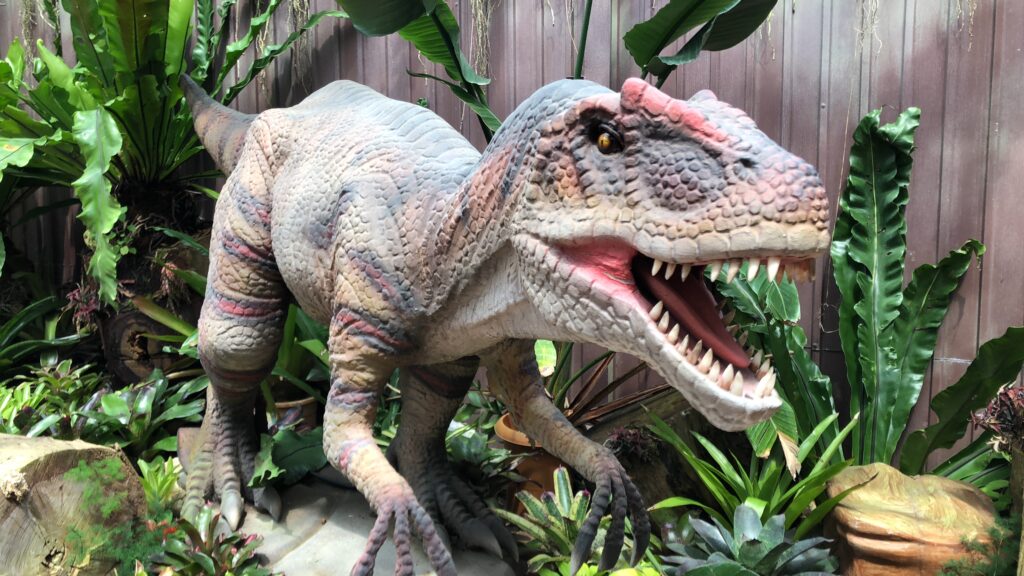 A Nature's Environmental Oasis Park or NEO Park as it is called – The Park features freshwater ponds, tropical flowers, and exotic animals, YES exotic animals – All this in the heart of Nago city.
And Greetings by the foraging birds in Flamingo Lake! Flying free throughout the park…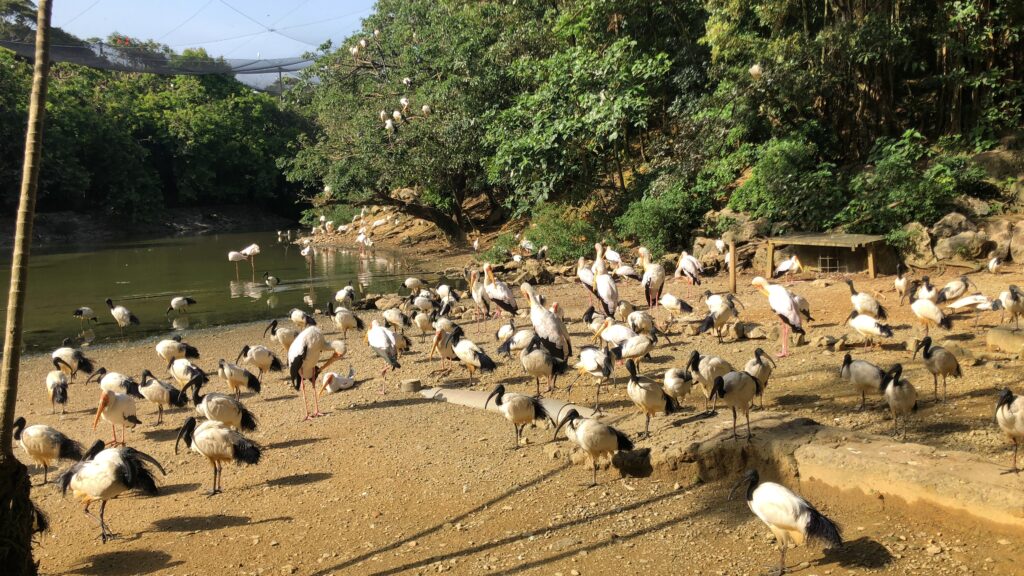 Our route was blocked by a dancing Peacock…and we Patiently waited till the Peacock cleared our way (learned to be patient and not panic once your route gets blocked) – It looked as if Peacock was happy to see us, started dancing, opened up its feathers in happiness – it wasn't an act of vanity, I believed…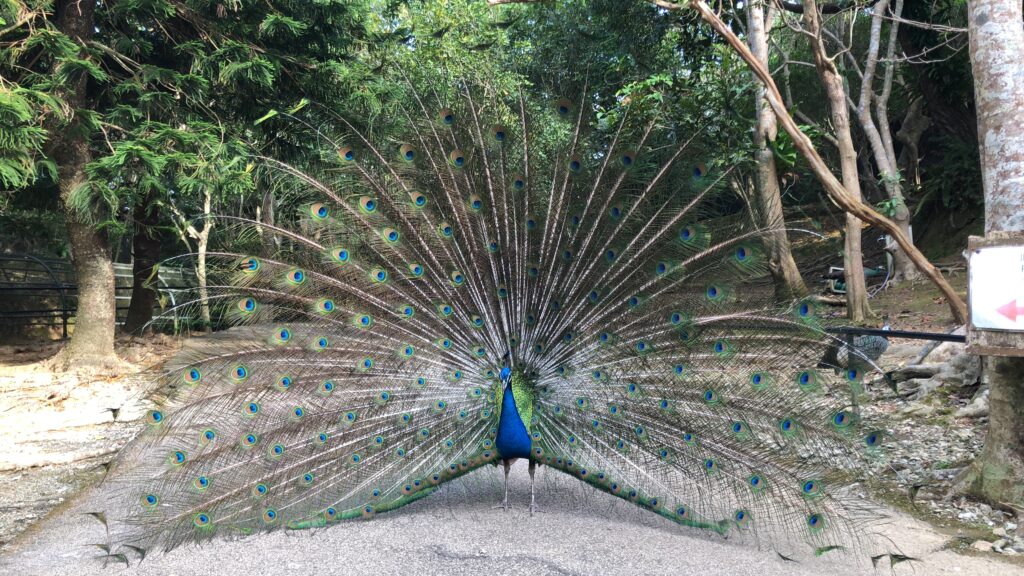 There are other animals & fauna we found in replicas of their natural habitats from tropical or sub-tropical regions and this was the another highlight of the park.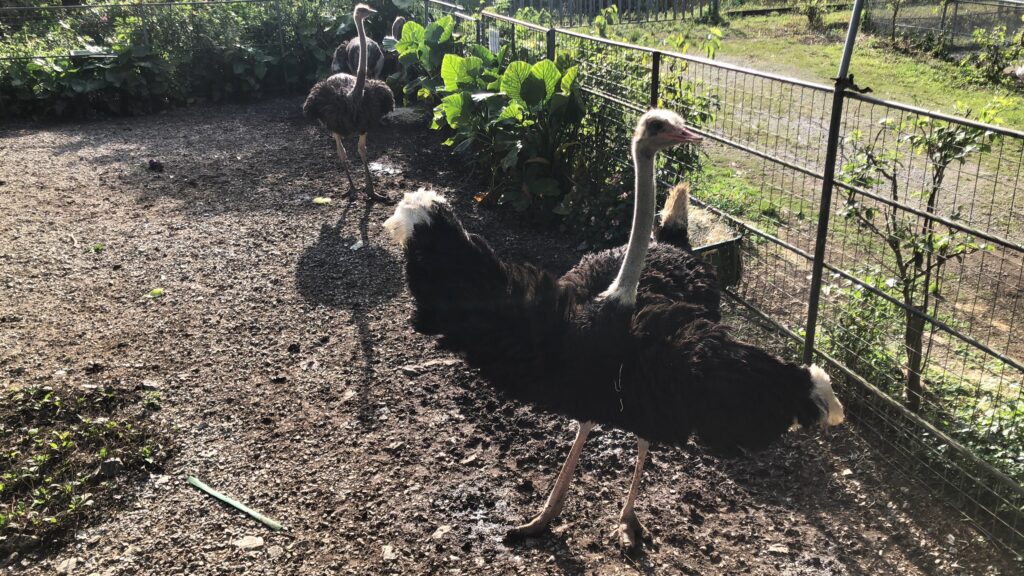 While driving on the main island you don't know which new island would you encounter – And, your anticipation rises when the spectacular view stretches over Blue Ocean on the 2KM Kouri bridge – One of the most beautiful bridges to drive on, leading to Kouri Island – A circular island with a radius of about 1KM, surrounded by emerald-green seas.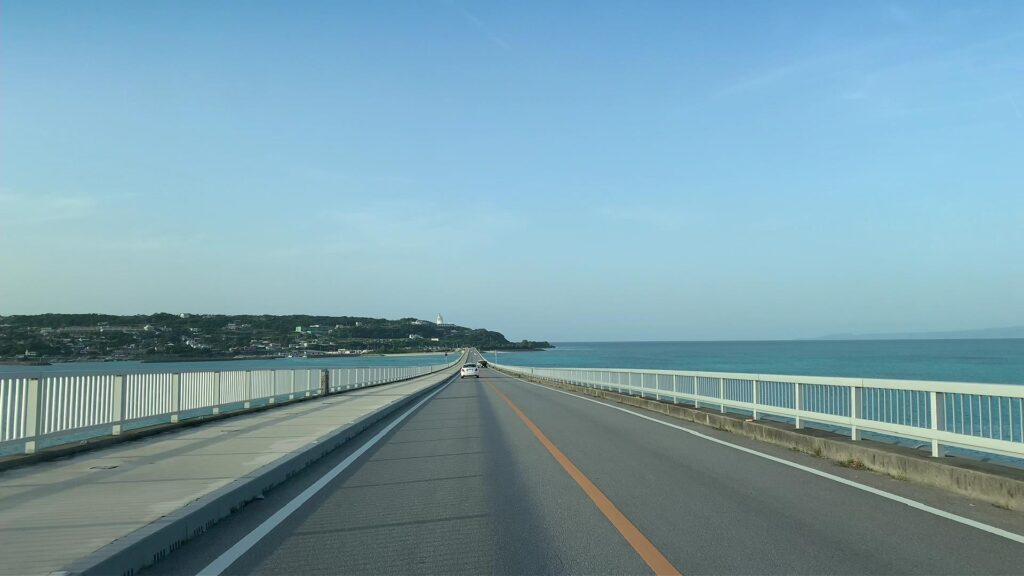 Once on the Island, it is said that a must-see for couples, Tiinu-Hama, a famed Heart Rock – A natural rock formation – supposedly one of the landmarks of Okinawa Island, was worth a visit for us as a couple with a kid too…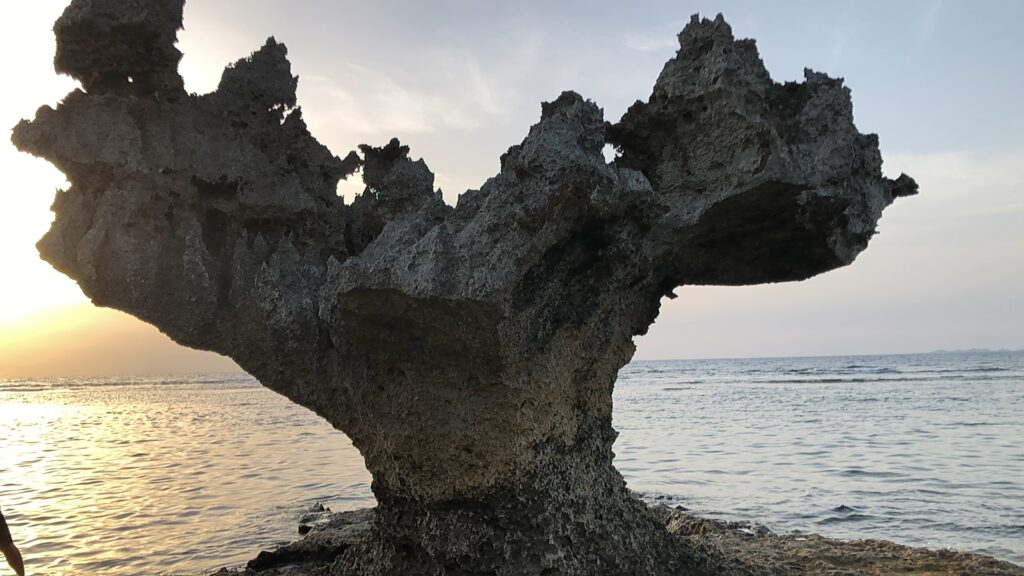 The heart rock kept saying something and we spent quite a few hours till the sunset…Did not figure out what was it saying even till now…Probably wanted us to relinquish the beauty it had…
This outlying island, "Island of Love", with an undeveloped, natural beach, became accessible by car only after this beautiful bridge was opened and best was, we visited during the low tides…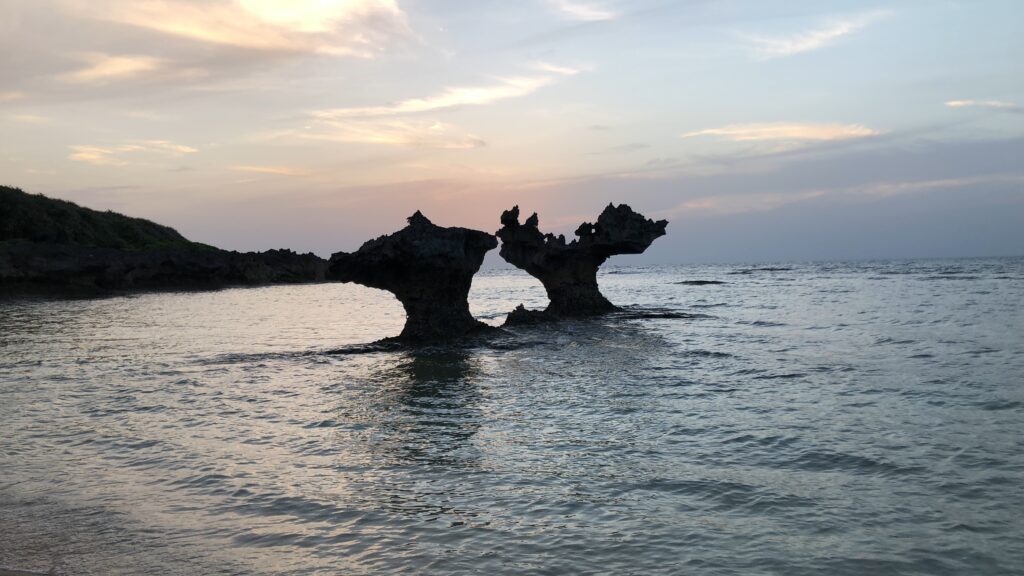 Although Swimming is not prohibited here, one has to be cautious of jugged rocks and sudden depth changes, as you explore a little deep in the sea…
Now we were on to an extraordinary experience to the extraordinary world, that can only be experienced here and tasted here, created by nature – A Mysterious limestone cave.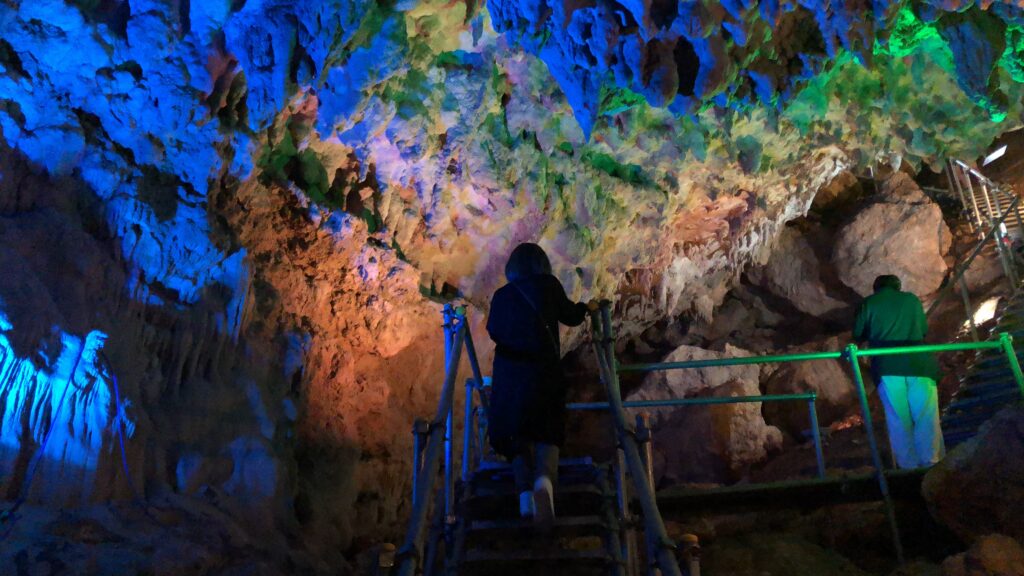 The Mysterious "red and white" stalactites are the symbols of the cave, formed over tens of thousands of years…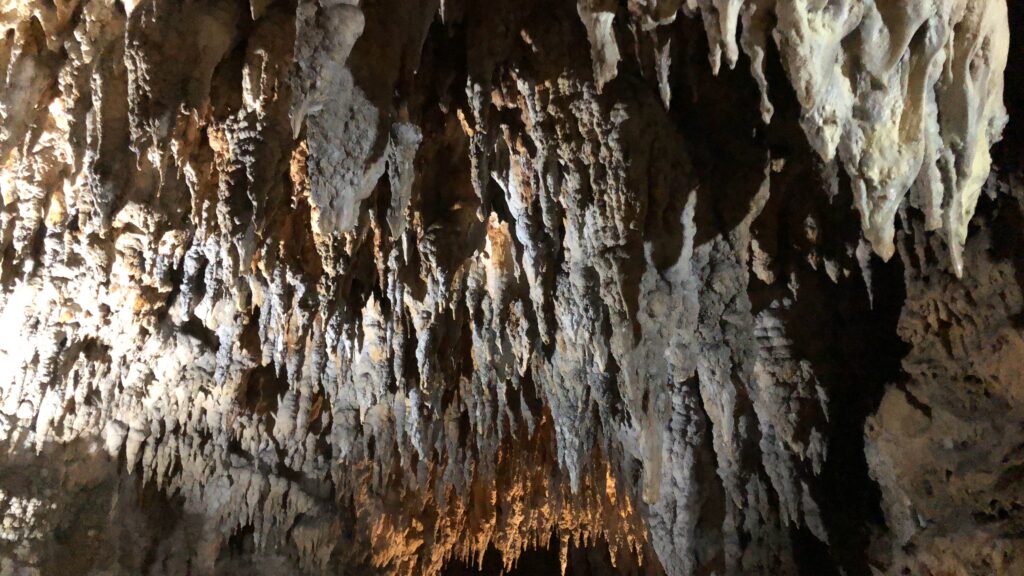 The auspicious "golden rock" and "the glitter rock" are said to be beneficial to the touch – We actually did not try touching them…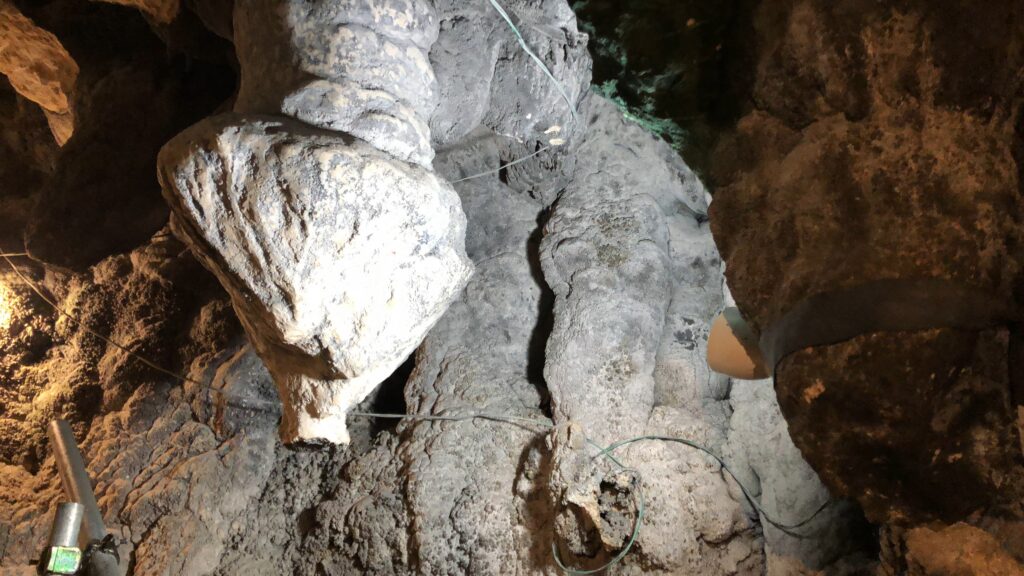 The beauty of these formations inside the caves kept us inside for a little longer than expected – Cave Okinawa was indeed a hidden popular spot that was not listed in the guidebooks but we got invited by the extraordinary powers to experience something extraordinary!
At the end of the cave, as we come out one can see the heart-shaped "Hearty Rock", that is popular with girls that is what we were told!!! But there is no doubt this looks great on SNS!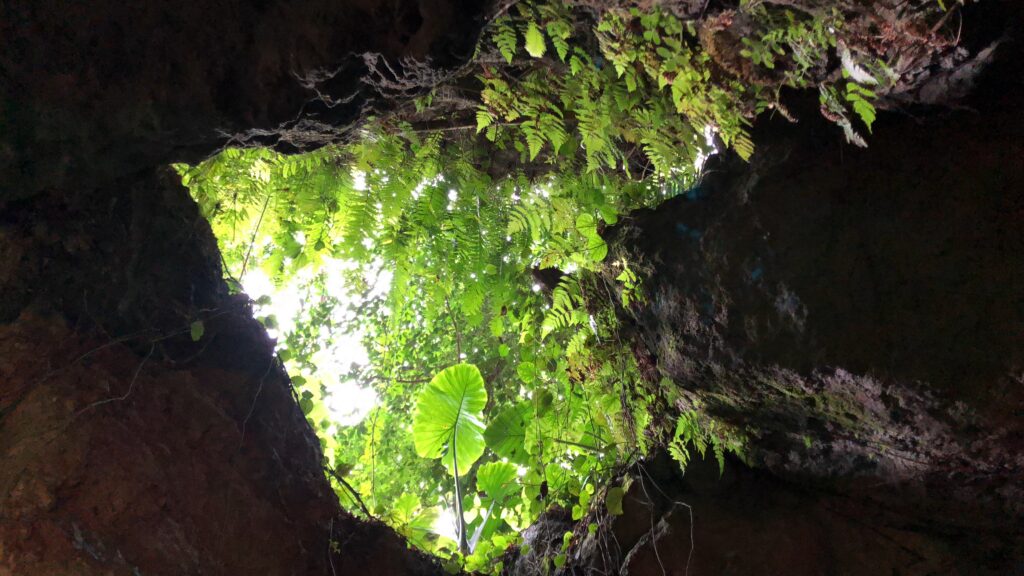 One can leave the car parked at Cave Okinawa and directly come out to American Village, to get a slice of the states, with some flavors of the past, in the heart of Okinawa – (Just Kidding…)
This is also a West Coast of the main Okinawa Island – what a coincidence and similarity with the US West Coast!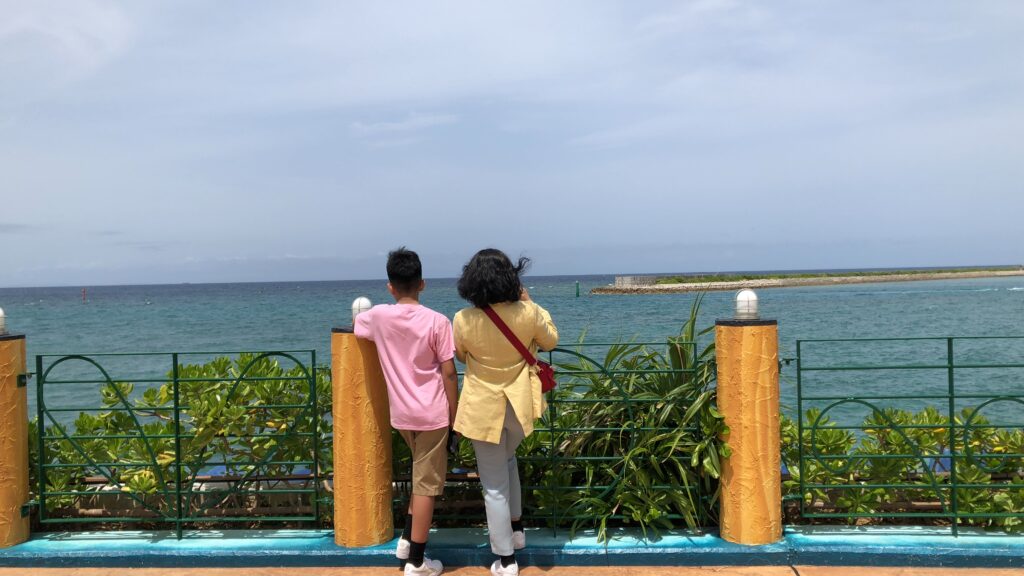 Some 20th-century American ambiance!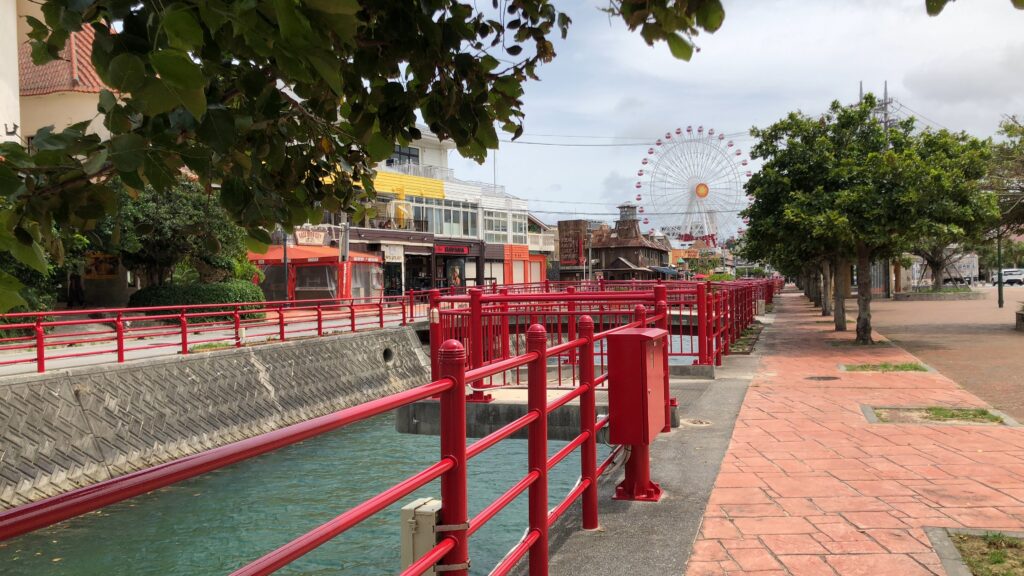 The nostalgic flavor of the post-World War II America!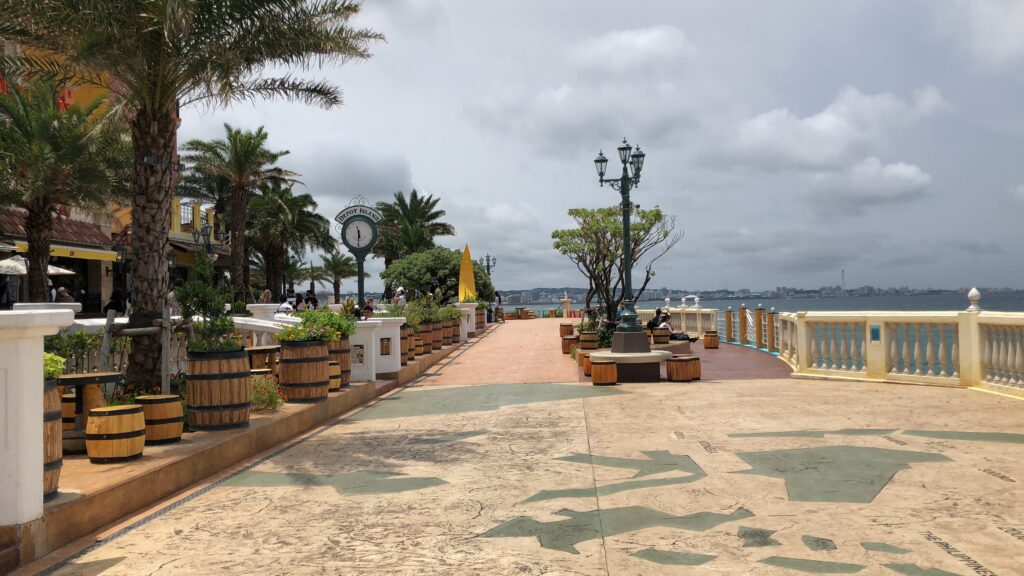 After all the nature, beautiful seas, and beach, if one is looking for a place in Okinawa where you can shop, eat and drink till you drop, this bustling and quirky American-style locale can surely satisfy all your legitimate entertainment needs…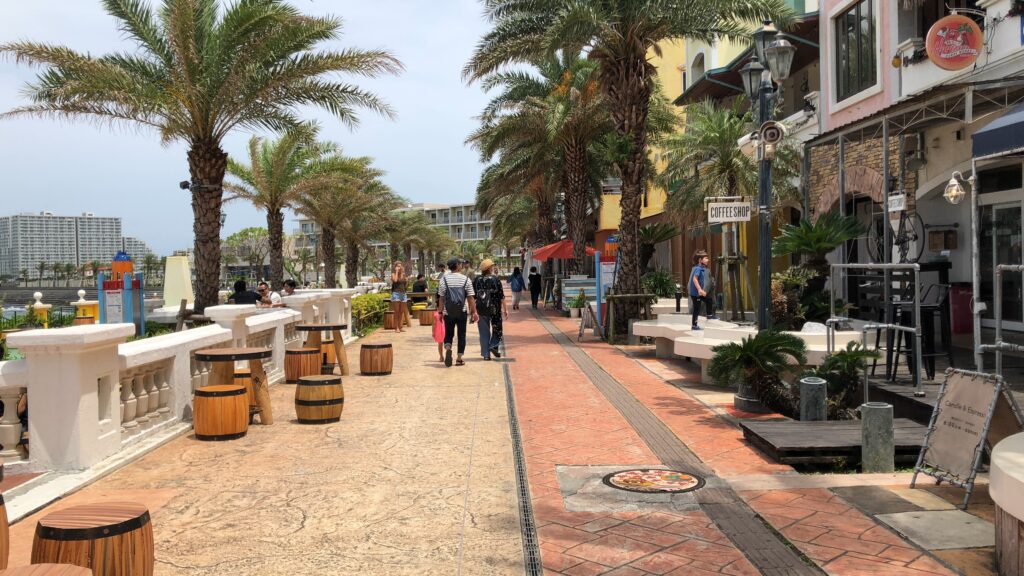 Just a few step away along the waterfront is the sunset beach, facing westward, we could not see the sunset as we returned back before the sunset to go for a BBQ organized at our hotel for Us…
And the BarBecue or BarBeque or BBQ – after few roasts all seems similar?…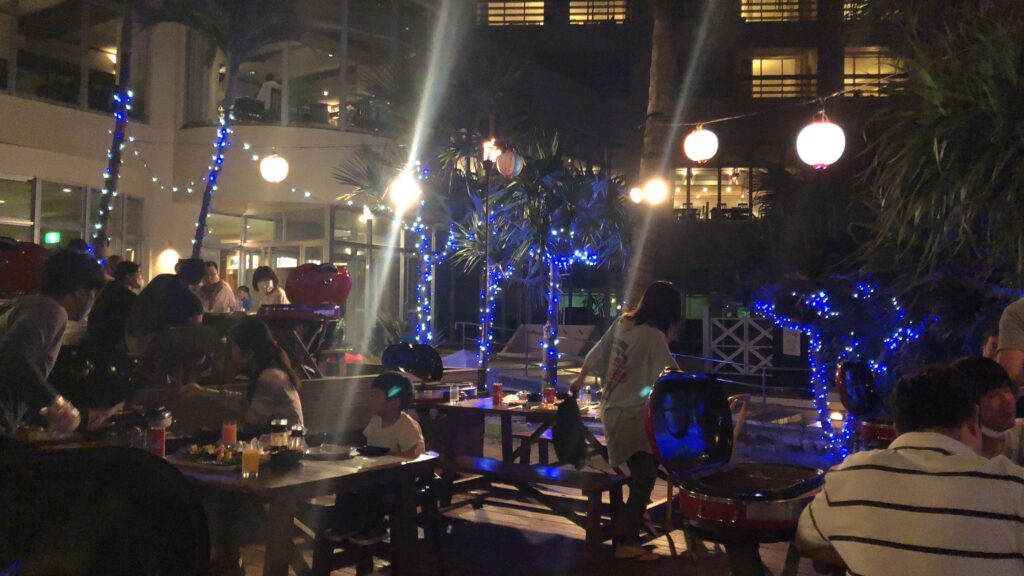 The sunset at the beach was caught here in midst of various roasts and a lovely view of the beach.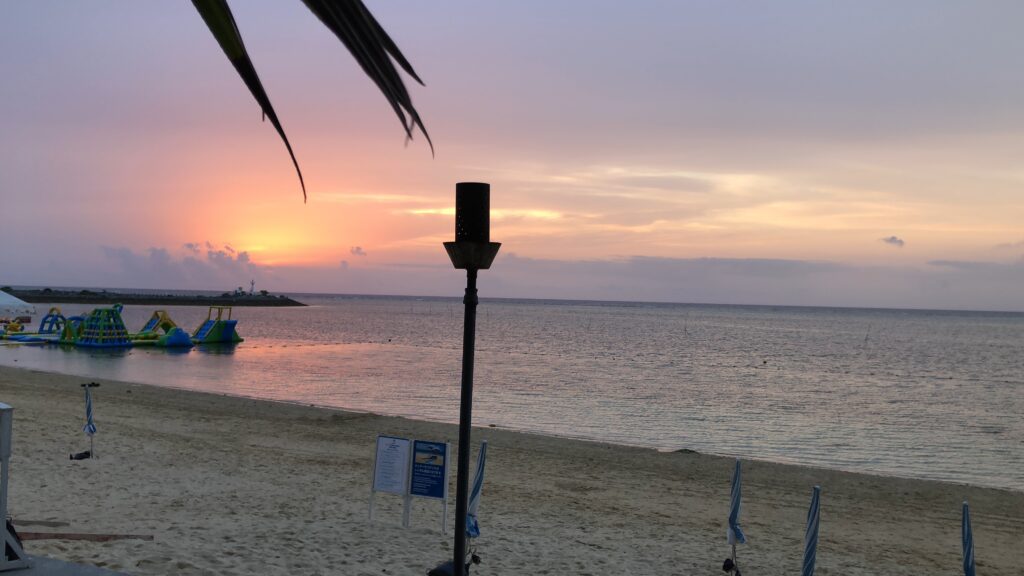 Does it naturally lead to firecrackers after a BBQ – Don't know about it but we did some bit of firecrackers on the sandy beach in the night with precautions and all used bits of it were carefully stored and picked up while leaving back to our rooms.
Things are always more interesting in the dark – We sparkled away to end our Okinawa trip with a pleasant skyline on an evening flight the next day…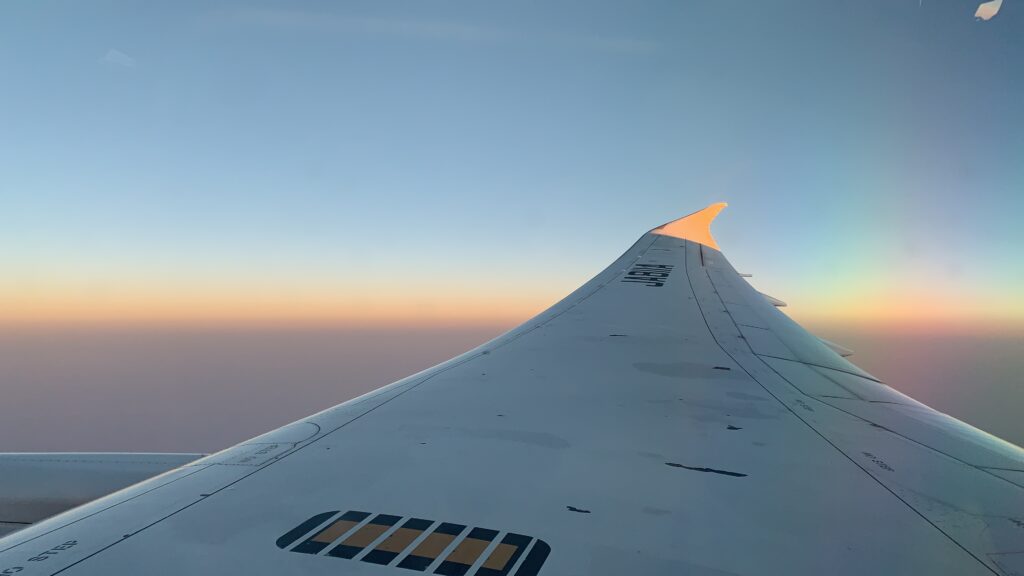 Mother's Day was well spent with a walk, spending time together, and a lovely lunch.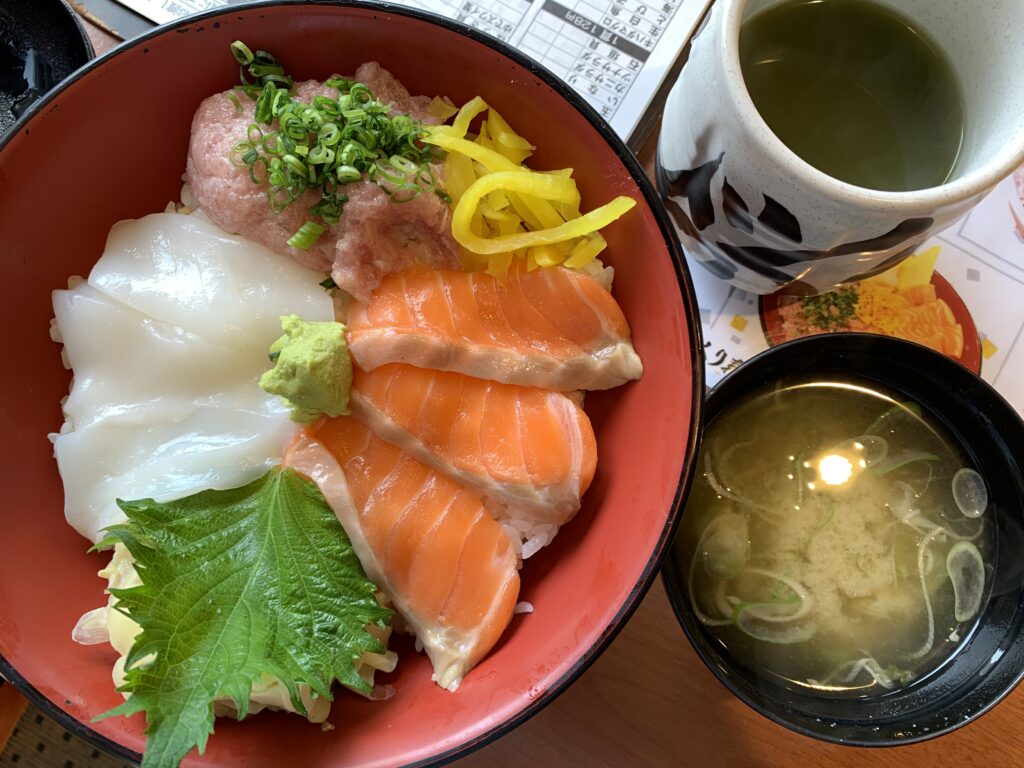 All malls and dept. stores were decked up for attracting consumers…But, this time we did not add to the ever-increasing consumer index…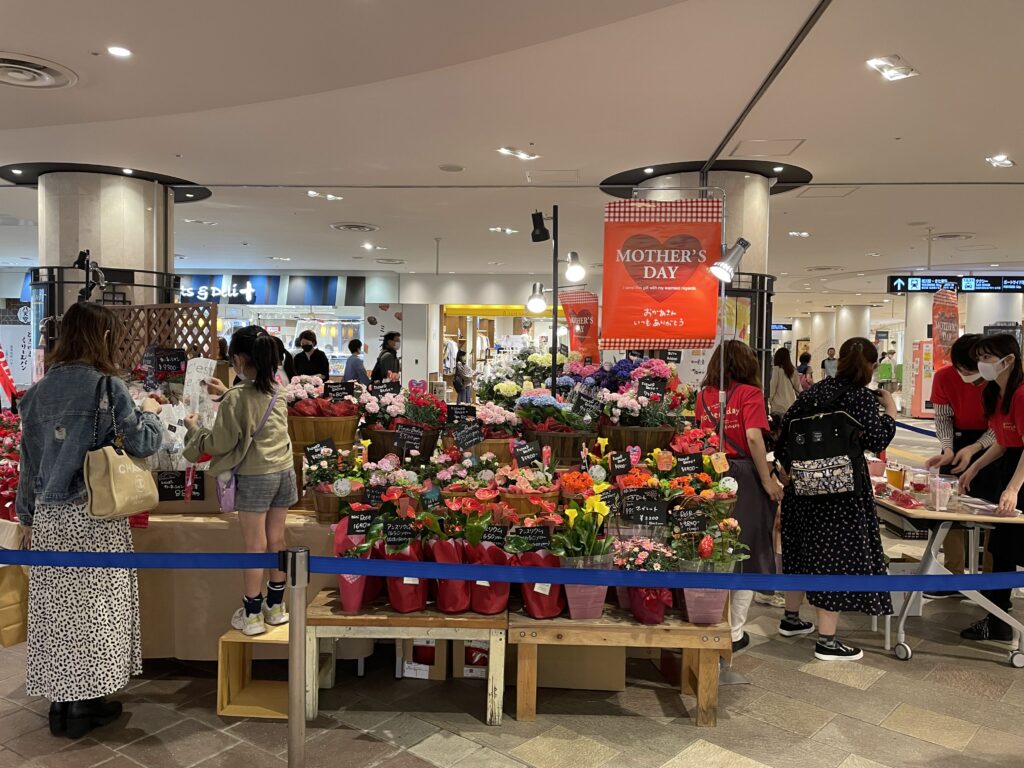 A new routine (how interesting!), was started – Going for a walk after dinner – you don't know what you will find – Love the silent hour of the night…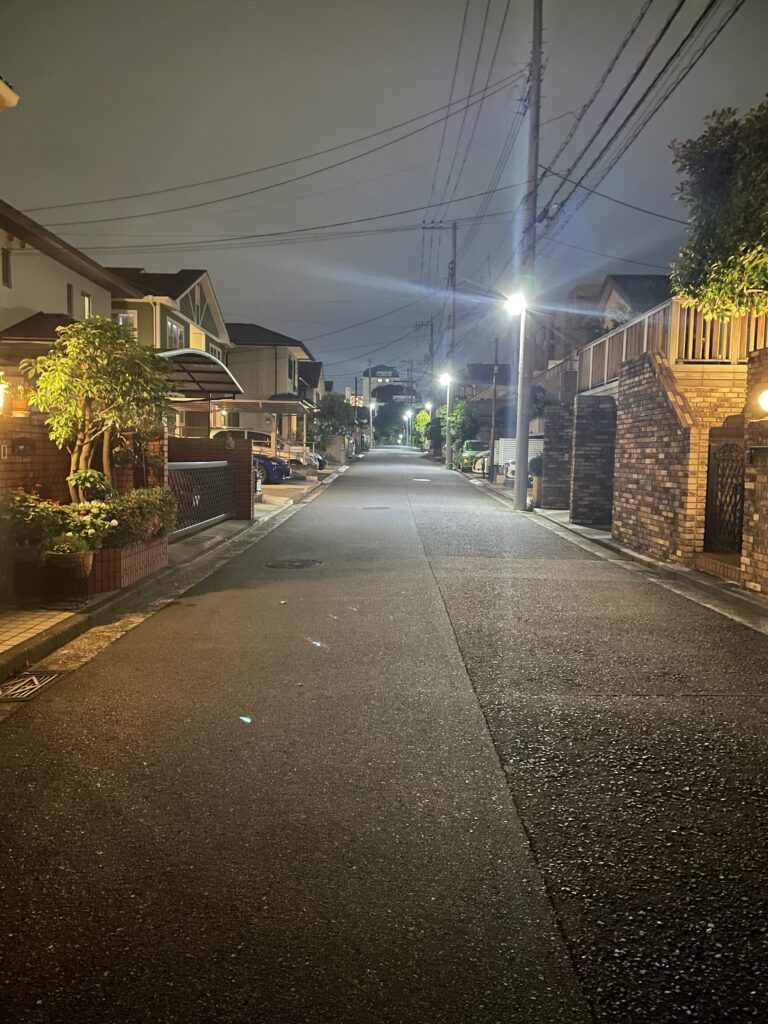 This year was the earliest rainy season start since records began, and to be precise it started about 3 weeks earlier…
Had a really wet May and could spot some lovely umbrella's during our walks.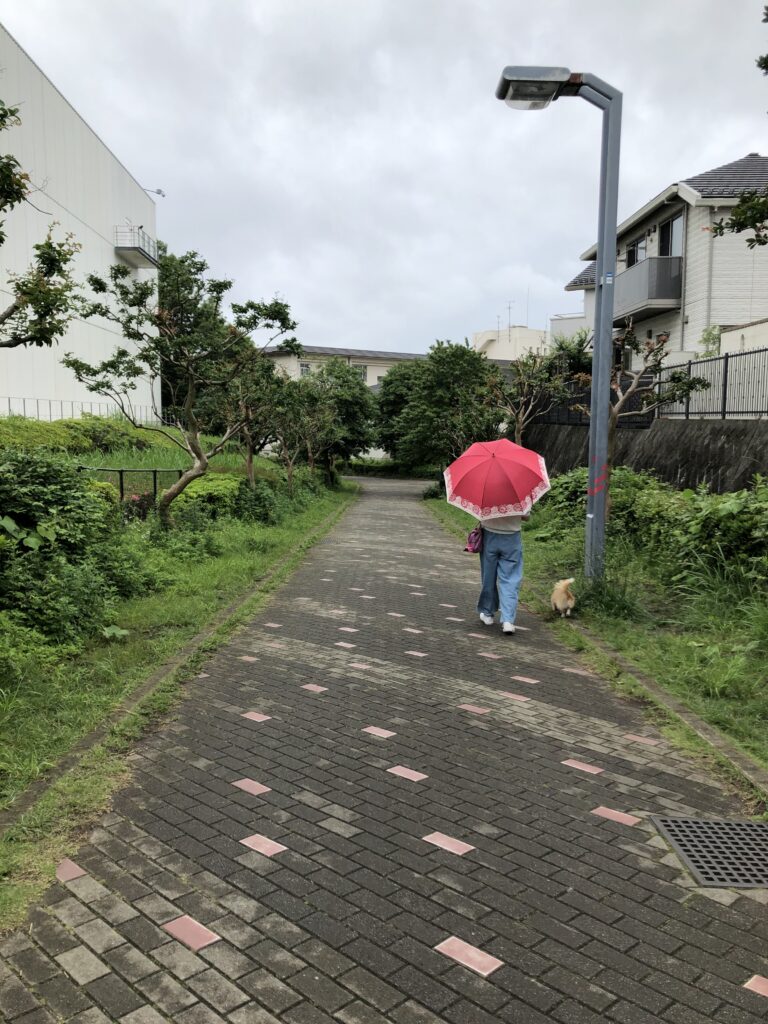 After every spell of rain, there was a shiny day for volunteering to keep your residential neighborhood clean by yourself – What a community work!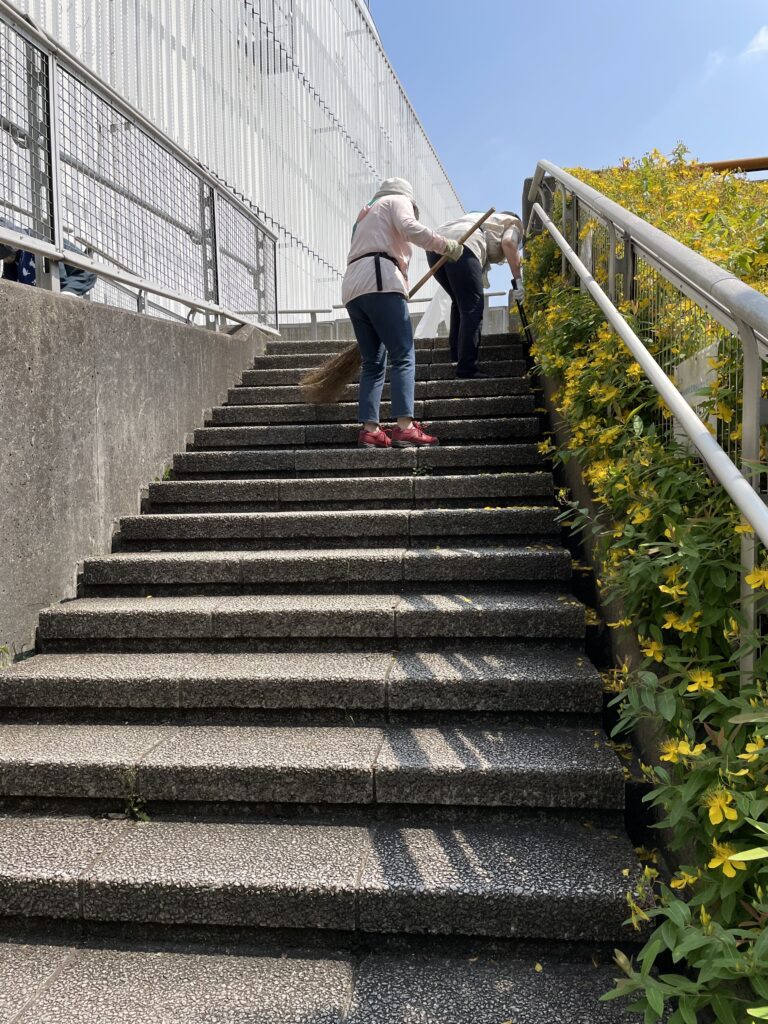 Brightening the few dull sunny days in May end, we started seeing beautiful Hydrangeas blooming & coloring JAPAN…it seemed Earth laughed in flowers.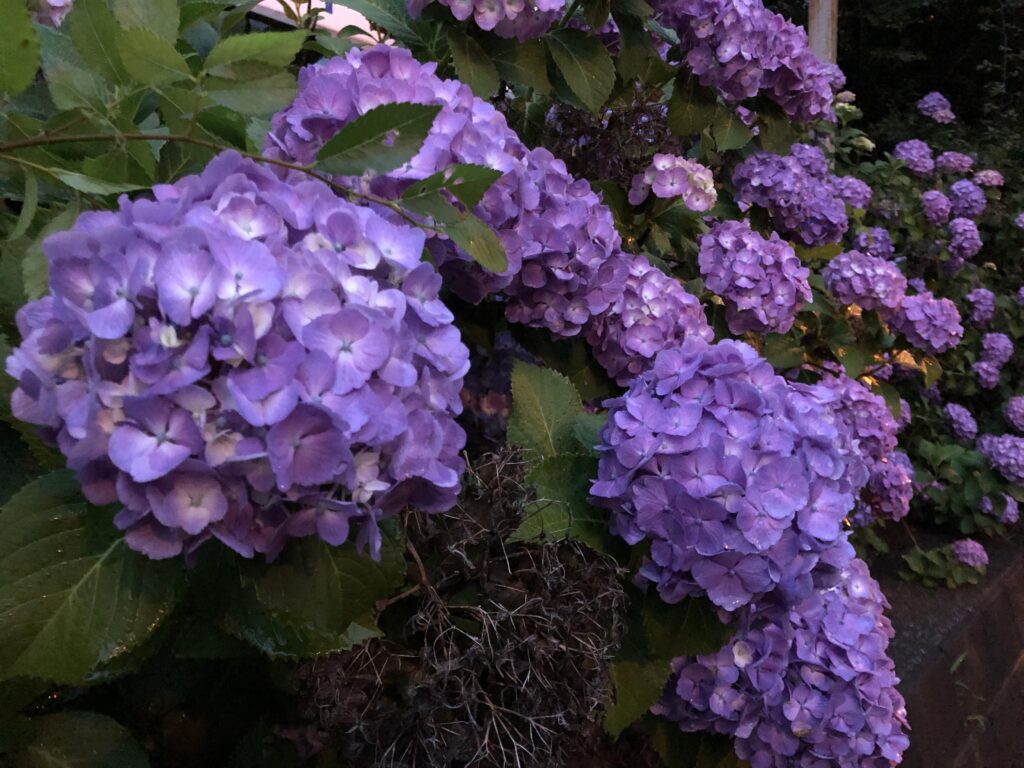 I feel Happiness shared is the flower…Hope you like the Journey, presented in a little different way through our writings.
Rainy season in Japan has arrived, a bit early – Waiting to witness nature's greatest optical phenomenon – The rainbow!
Have a colorful June, Mina-san!…